Latest news

UPDATE 5/20/02 - 12:45 p.m. -- The Leinungs were featured in the May 13 issue of the New York Times. CLICK HERE to read the story.
At the Excelsior Awards on May 2, a special tribute was held for Paul. Brian Napolitano gave a speech, and Binghamton University President Lois B. DeFleur also said some words about Paul. The "Student Leader of the Year" award -- which Paul won in 1999 -- was then re-christened the "Paul J. Battaglia Student Leader of the Year" award.
The WHRW commemorative T-shirts are nearly all sold out. Thus far, T-shirt sales have raised nearly $1,000 for the scholarship fund at BU.
UPDATE 4/28/02 - 8:00 p.m. -- The 24-hour radiothon on WHRW this past Saturday raised about $1100 for the Paul J. Battaglia scholarship fund at BU. Thanks to everyone who participated and donated. The radiothon was featured in this past Friday's issue of BU's student newspaper, Pipe Dream. CLICK HERE to read that story.
UPDATE 4/25/02 - 12:27 p.m. -- A story in today's Binghamton "Press & Sun-Bulletin" newspaper talks about the upcoming memorial garden at BU, and also about Paul. CLICK HERE to see the story.
UPDATE 2/26/02 - 9:30 p.m. -- The planning for the memorial garden at Binghamton University is in full-swing, and the tentative date for the dedication is Saturday, October 12, which is also Homecoming Weekend at BU.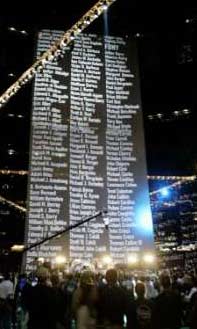 UPDATE 2/4/02 - 11:10 a.m. -- If you watched the Super Bowl halftime show yesterday, you probably saw Paul's name on the screen behind U2 during their performance. I stole this picture from CNNSI.com -- you can kinda see his name at the top of the middle column. I am trying to get a video of the halftime show, so I can just get a high-quality screengrab of Paul's name. If you have a copy, please e-mail me at sethmates@aol.com.
UPDATE 12/27/01 - 3:30 p.m. -- A Web site called MetaFilter.com featured Paul this week. CLICK HERE to see what its users had to say.
UPDATE 11/24/01 - 4:30 p.m. -- Paul was featured in Wednesday's issue of the New York Times. CLICK HERE to read the story.
UPDATE 11/1/01 - 8:30 p.m. -- This week's issue of Inside BU (the Binghamton University faculty newspaper) has an article about the planned garden at BU, honoring Paul and other alumni lost in the WTC attacks. CLICK HERE to read it.
UPDATE 10/15/01 - 12:30 a.m. -- In front of more than 2,200 fans at Midnight Madness, the Binghamton University athletic department held a moment of silence in Paul's honor.
CLICK HERE to hear the tribute, as delivered by associate athletic director Dave Simek.
The broadcast itself was a success. Mr. and Mrs. Leinung were kind enough to call into offer some words about their son, and many others paid tribute to Paul, including BU President Lois B. DeFleur, City of Binghamton Mayor Richard A. Bucci, BU athletics director Joel Thirer, and numerous BU coaches, athletes, and WHRW station members. We thank everyone who joined us for the broadcast, and especially thank the athletic department for the touching tribute to Paul at the West Gym.
Also at homecoming, it was announced that a Memorial Garden is in the planning stages to honor Paul and the other BU alumni lost in the WTC attacks. The garden will be located near the new Academic 1 building, and will likely feature a plaque with the names of the alumni. A dedication ceremony and possible tree-planting ceremony are tentatively scheduled for next year's homecoming.
UPDATE 10/9/01 - 2:30 p.m. -- CLICK HERE to read the eulogy delivered by Brian Manning at Paul's memorial service.
UPDATE 10/7/01 - 10:45 p.m. -- There's a story about Paul in Sunday's issue of the San Antonio Express newspaper. CLICK HERE to read it.
UPDATE 10/2/01 - 9:00 a.m. -- The article about Paul from Pipe Dream (Binghamton University's student newspaper) is now online. CLICK HERE to read it.
Paul was featured in this past Sunday's New York Daily News. You can view the page on the Daily News Web site; scroll down on the page and click on "Page 20." You will need Acrobat Reader to view the page; you can download it for free at the Daily News site.
Paul's Aunt Carol has written a touching poem for Paul; CLICK HERE to read it.
For those of you who will be in Binghamton for homecoming weekend (Oct. 12-14), there will be a special ceremony at the Anderson Center Chamber Hall at 5 p.m. on Saturday, Oct. 13, honoring the BU alumni lost in the WTC tragedy. BU President Lois B. DeFleur will speak at the ceremony, as will Alumni President Marty Triano. There will be an open mic session, and family and friends will be able to sign a commemorative banner, among other activities. We will have more information about homecoming weekend on this site in the coming days.
UPDATE 9/27/01 - 12:15 a.m. -- The WHRW tribute show hosted by Brian Napolitano is now online.
Listen: [ RealAudio G2 ] | [ MP3 ]

Fox 40 News did a touching piece on Brian's broadcast. [ View ]
(If you have trouble seeing it, right-click and choose "save target as")
UPDATE 9/18/01 - 12:30 a.m. -- For five emotional hours last Monday night, Brian Napolitano hosted a radio show on WHRW in honor of his best friend, Paul J. Battaglia.
The show featured memories, stories and tributes from friends of Paul around the world. Among those calling in were Binghamton University President Lois B. DeFleur, many of Paul's former housemates and classmates, and a myriad of WHRW station members past and present, including Greg Maddalena, Scott Kidder, Jeremy Klaff, Seth Mates, Seth Siditsky, Meaghan Lucia, Jared Mroz, Greg Levine, Nicole Blonder, Adam Schechter, Chris Biscuiti, Mark Scudder, Mike Knutson, Mike Styne, Nick Venti and Suz Massen, among others.
After the show, WHRW had an extended moment of silence until 7 p.m. on Tuesday night.
UPDATE 9/16/01 - 6:30 p.m. -- ListServ update from Erin Ferguson: "i went into the city yesterday with irene, who's also from the binghamton crew, and we put up posters, checked out some hospital lists, etc, but to no avail. but we did get his name on U.N. radio, if that means anything, and a few people took posters back to their neighborhoods and churches to pray for him, his family, and all of us."
Here's just a few e-mails and Instant Messages I have received in recent days which I thought I'd share with everyone:
Jed Downey: "It hurts too much to spend my days wishing Paul back in the hopes that things will return to the way they were. I can't do that to myself. No one can. All I want in the world is a single chance to see him again and say, "Hey, buddy. I'm so glad you're alright." Just one more moment, you know? If nothing else, the one thing that we will someday take from this is that Paul is doing now what he always did so well: bringing people together."
Pam Weiner: "Paul means a great deal to me. We met senior year at Binghamton. I spoke to him Monday night on Instant Messenger. I wrote to him that I was just thinking of him. He responded, "Think of me more often." If he only knew if was..."
Kristi Russo: "I think from now on, every time I smile, I will think of Paul. i smile in the bathroom when i am getting ready in the morning and know that i will make it a good day and that i will try to make other people smile all day for paul."
Jason Isaac: "I hope he comes back to us, but I know that
if he doesn't, then he's in a better place. And if that's the case, then
somewhere down the road we'll all get to see him again, and you know he'll be smiling, and he'll probably rip into us with some wise-ass comments. :-)"
These are just some of the comments I have seen in recent days -- there's many more heartfelt messages in Paul's guestbook at http://www.battaglia.org/guestbook/guestbook.html
UPDATE 9/14/01 - 11:20 p.m. -- ListServ update from DanaDPLA@aol.com: "I just called Paul's family and spoke to Elaine. She wanted to thank all of Paul's friends for their concern and calls. She said that Paul truly has so many wonderful friends all of whom he loves. I asked her if there was anything we could do (prepare meals, baby-sit, etc.), but she said that the family doesn't need anything at the moment, they just want what we all do and that is for Paul's return. She also said that Eric and Kristen are still hopeful and they have placed yellow ribbons across the block."
UPDATE 9/14/01 - 2:30 p.m. -- E-mail to the ListServ from Paul's Aunt Carol: "I am in contact with his grandparents and parents on a daily basis ... As of last evening, no news has been received. We found his name on a list of survivors in the WTC, but there is no proof that this is our Paul. We are still praying for him. It 's so wonderful to know how many people love and are concerned for Paul."
We are still working to get updates; as of just a few minutes ago, the Marsh hotline and NYU Medical Center still had no info about Paul.
Keep praying, and keep hope alive.
UPDATE 9/14/01 - 10:00 a.m. -- I called NYU Medical Center about half an hour ago, and they still have no record there of a "Paul Battaglia." Also, as of 9:15, the Marsh hotline still had no information on Paul. Please remember that hospitals are still getting new information by the hour, so STAY POSITIVE, and keep praying.
UPDATE 9/14/01 - 12:10 a.m. -- A ListServ update from DanaDPLA@aol.com: "Hey everyone, I talked to Paul's family like an hour ago, and there is unfortunately, no news to report...keep praying for him and his family. I'll keep in touch"
UPDATE 9/13/01 - 11:21 p.m. -- We are aware of the posting on NY.com at 10:30 tonight of a Paul Battaglia in critical condition at NYU Medical Center. I placed a phone call to NYU Medical Center at around 11 tonight, and they had no such listing. At this time, we do NOT believe the listing to be accurate, although we pray that we are wrong.
Please keep in mind that NY.com has been cited as being VERY unreliable -- in fact, the woman at NYU Medical Center said that they have been trying to shut it down. However, we are following through on this in every which way, and we hope to know whether the listing has any validity in the near future.
We have already contacted Paul's family to let them know; again, please do NOT contact them. We will pass along any information as we get it. If you'd like to contact NYU Medical Center yourself, the number is 212-263-7300.
Please keep Paul in your thoughts and prayers. -- Seth
Here is the other information we have as of now:
... Paul has not been heard from since before the incident on Tuesday morning
... Calls to his cell phone go directly to voicemail after one ring
... Beth Israel Hospital in Manhattan says they admitted a "Paul Battaglia" on Tuesday afternoon, and he checked out by evening -- this is clearly not our Paul
... A representative from Paul's company has said that they have already accounted for over 1,300 of their 1,700 employees in the two buildings, and they are still getting new names every day
... The representative from Paul's company said she knew of people who had made it down from the 95th floor of Paul's building, and we have heard of people from Paul's floor (100th) who made it down in time