PAUL BATTAGLIA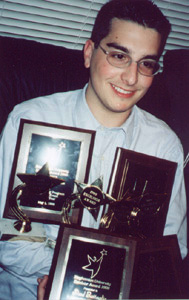 I am proud to nominate Paul Battaglia as student leader of the year for his role as general manager of WHRW.

This award is virtually a no-contest. Since Paul took over as GM in September, the station has made leaps and bounds, and Paul is responsible for it all.

A year ago, WHRW was a misunderstood station with little fanfare and even less of a following. Often dismissed for its unique programming, the station needed a boost.

In came Paul. Within his first two months, he had already arranged to buy over $10,000 in new equipment for the station, including a brand new mixing board and a brand new remote travel board. Along with that came mikes, headphones, CD players, tape decks, the works.

Paul also set up plans with the athletic department to broadcast the full season of Binghamton University womenís basketball, making WHRW the ONLY radio station in the COUNTRY to broadcast a full season of Division II womenís basketball. The athletic department even agreed to subsidize radio station equipment and promotions.

But it didnít stop there. In early February, Paul teamed with station members Seth Mates and Jeremy Klaff to do the first-ever 24-hour WHRW radiothon to raise money and awareness for the station. It worked. The station raised nearly $2,500, and interest in the campus station had never been higher.

And boy, were those 24 hours packed. A basketball game. The last pub show ever. Parades around campus. Visits to dining halls. And special guests, such as BU President Lois B. DeFleur, City of Binghamton Mayor Richard A. Bucci, SA President Benjamin Greenzweig, campus music acts Lyrical Jester & Unda Kova and Del-40, and others. They even brought down mascots from the Binghamton Mets and BC Icemen to entertain at the basketball game, and resurrected former BU mascot Colonial chicken for the evening.

And it didnít even stop there. Over Easter break, Paul slaved into Manhattan on a busy Monday afternoon to visit the offices of 96.3 FM, a classical station which was willing to donate equipment to WHRW. Paul made about four trips up and down stairs carrying tape decks, cart machines, speakers -- whatever -- just for the good of WHRW.

Thanks to Paulís efforts with the radiothon, the entire BU campus was given an opportunity to enjoy a college experience together. Thanks to the basketball coverage, town/gown relations improved, and the much-deserving womenís basketball team got coverage. And thanks to his amazing management skills, the oldest and biggest SA group on campus got thousands of dollars in state-of-the-art equipment.

Last week, Paul was elected by a unanimous vote to once again be the general manager of WHRW next year. It is definitely a deserved honor. Paul Battaglia has done amazing things for this station, and there is no doubt in my mind that he should be student leader of the year.